The MGS in Portugal

In Portugal the MGS is affiliated to Mediterranean Gardening Association – Portugal (MGAP) ASSOCIAÇÃO DE PLANTAS E JARDINS EM CLIMAS MEDITERRÂNICOS (APEJECM), whose aims are:

To promote Mediterranean plants and gardens, through education, cultivation, conservation and recognition of their communal, environmental and economic importance in our everyday lives.

MGS members are welcome to participate in MGAP events and activities; those wishing to receive MGAP newsletters can send their email address to mgaptreasurer@gmail.com.
MGAP President is Marilyn Medina Ribeiro (biography), Secretary is Rosie Peddle and Treasurer is Rob Peddle.

For up to date information on events, please see our website or send an email to mgaptreasurer@gmail.com.
The photo at the top of this page shows a Portuguese water tank of traditional tiles with floral designs in a private garden in the UNESCO Heritage Area of Sintra, near Lisbon. Photo by Rosie Peddle.
For previous reports and articles please check out the archived (non-responsive) Portugal Branch page.

Forthcoming Events
All MGS members are welcome to attend the Portugal branch events.
Sunday 22 March - São Bras de Alportel - CANCELLED
MGAP Spring Mediterranean Garden Fair
Our Spring Fair will be held at Escola Poeta Bernardo de Passos, São Bras de Alportel from 10:00 to 16:00. There will be plant nurseries with wide range of plants for Mediterranean gardens, free talks/workshops, Plant Clinic and Advice. Free parking nearby, refreshments available. For more information and all offers of help please contact mgapfairs@gmail.com.
First visitors at the Autumn Fair in October 2019
Date to be confirmed
Family Day at Quinta da Figueirinha
A fun day for adults and children to take part in nature-based plant themed crafts and activities. For further details contact Kristina MacDonald or Marilyn Medina Ribeiro.
April - Date to be confirmed
Woodland Regeneration, Western Algarve
A day looking at four different types of woodland in the Aljezur/Monchique area where regeneration has taken place using native woody plants as alternatives to planting exotics or replacing eucalyptus. Further information is available from mgapevents@gmail.com.
Western Algarve visit in May 2019
Spring 2020
Visit to Colares - Cabo da Roca
Eunice and Carlos Barroso invite MGAP members to visit their garden and lunch at their home in Colares, Sintra. Nearby garden and plant nursery visits will be included. An opportunity to meet Lisbon area members. Transport from the Algarve may be possible. Further information is available from mgapevents@gmail.com.
Spring / early Summer Garden Visits
We will be continuing our programme of visits to private gardens in the Algarve and hopefully other parts of Portugal. Contact mgapevents@gmail.com for more information and to suggest gardens for visits.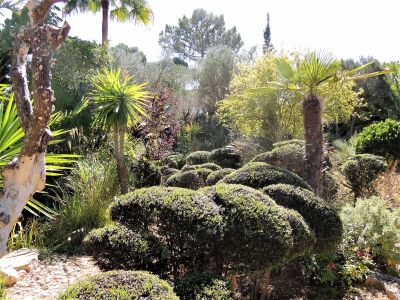 Almancil garden visit in October 2019
Past Events
April 2019
International Spring Conference, Évora, Alentejo
Olivier Filippi talk "Bringing the Mediterranean landscape into your garden"
Our conference this spring was entitled 'Bringing the Mediterranean Landscape into your Garden'. It was held in the UNESCO World Heritage University city of Évora in the beautiful springtime landscapes of the Alentejo.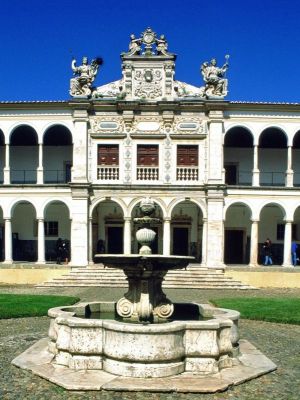 University of Évora
The event started with a pre-conference tour in the Algarve: the group spent four days visiting gardens and wildflower hotspots including in Messines, Monchique and the west coast. Also included was the MGAP Barrocal Botanic Garden near Silves.
Group on the pre-conference tour of the Algarve
Finding Paeonia broteroi in flower was a highlight and, despite the dry winter, there was a good show from Cistus ladanifer in the hills and some orchids on the coast.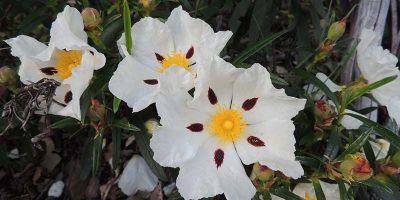 Cistus ladanifer
Anacamptis pyramidalis
The Évora section of the week-long event was well supported, with 140 attending the Saturday morning talks. It was very pleasing to have with us students of landscape architecture, professional landscape architects and gardeners from around the Mediterranean who gathered together in the university auditorium.
Group photographed at the historic Casa de Borba garden
The theme of the event was to highlight new trends in garden design and landscaping for more natural style and sustainable gardens. We were lucky to have Olivier Filippi and James and Helen Basson as our keynote speakers. They were ably supported by talks on the 'montados' (cork oak forests), the use of native plants in Porto Botanic Garden and new methods of teaching about, and creating, low-maintenance natural-style gardens.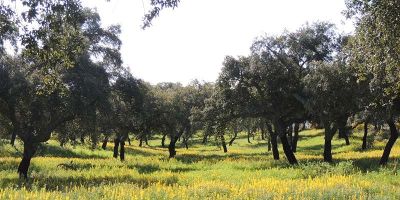 Montado in March
Montado in spring
A discussion session following the talks gave an opportunity to ask questions of our speakers and inevitably this included the recent advice for total land-clearance around houses in Portugal. The wholesale removal of fire-resistant plants was condemned as native hardwoods can be protective in many situations.

The event was host to the global book launch for Olivier Filippi's new book in English "Bringing the Mediterranean into your Garden – How to capture the natural beauty of the garrigue" (reviewed in TMG 97, July 2019). Olivier says: "Some understanding of plant ecology is essential for success – how a plant interacts with its environment indicates what it needs to flourish in a garden setting." He shares his expert knowledge acquired from decades of research.
Formal gardens visited at Quinta do General, Borba
There is much in the book about the special plant communities of the Algarve's west coast and how to use them in a garden setting. Olivier Filippi's pioneering approach makes for a much closer relationship between gardener and nature that puts few demands on natural resources.