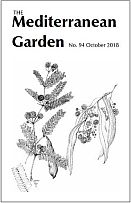 The Mediterranean Garden
No 94, October 2018
A visit to Lazio and Umbria in Italy with a delightful mix of visits to gardens, both private and public, nurseries and small, medieval towns in central Italy. Also a look back at the early days of the garden at Sparoza.
The Mediterranean Garden
No 93, July 2018
Old and new gardens in Corfu and an article about growing endemic and endangered species in Cyprus are illustrated in this issue.
Caroline Harbouri - Editor of The Mediterranean Garden
Caroline Harbouri was born in London and received a BA degree from Cambridge University in English and French. She has lived in Greece since 1971. She has been working for the past twenty-nine years as a free-lance editor and as a translator of Greek works (ranging from medical papers to fiction) into English. In 1998 and 1999 one of her translations was short-listed for the Weidenfeld Translation Prize and the Aristeion European Translation Prize respectively. Under the name Petrie Harbouri she is a writer of fiction; her three novels, Graffiti (1998), Our Lady of the Serpents (1999) and The Brothers Carburi (2001) are all published by Bloomsbury, London. She is a founder member of the Mediterranean Garden Society. She was joint editor with Derek Toms of the first issues of its quarterly journal, The Mediterranean Garden, and since spring 1996 has been its sole editor.
THE MEDITERRANEAN GARDEN is the registered trademark of The Mediterranean Garden Society in the European Union, Australia, and the United States of America