MGS Excursions
The Society's aim is to provide members with at least one trip per year, usually during the Spring. The programme was disrupted by the pandemic in 2021. Watch this page for details of future tours.
The South Australian Branch of the Mediterranean Garden Society invites you to join us on a "Garden Tour Down Under" where we will showcase South Australia at its best.
Garden Tour Down Under - October 2024
Pre Tour 9 to 13 October 2024 (5 days)
Main Tour 14 to 20 October 2024 (7 days)
We will meet and greet on the evening of Wednesday 9 October and depart Thursday morning to visit The Australian Arid Lands Botanic Gardens, located on the Upper Spencer Gulf with spectacular views to the ancient Flinders Ranges. The Garden is sited on more than 250 hectares and showcases a diverse collection of arid zone habitats, as well as a diverse population of reptiles, birds, mammals and insects. We will visit the historic mining town of Burra, in the mid North, where we will visit local gardens and experience local bush tucker food.
The Australian Arid Lands Botanic Gardens
The Main Tour will commence with a welcome evening on Monday 14 October. Our itinerary will include the historic Barossa Valley wine district, the Adelaide Hills, the Fleurieu Peninsula and the City of Adelaide. We will entertain you with a variety of private and public garden visits, a series of interesting lectures and discussions and, of course, showcase our beautiful hospitality, food and wine. We will conclude with a farewell dinner on Sunday 20 October 2024.
Boats End garden on the Fleurieu Peninsular
Expert advice will be available for a selection of optional day tours or extended tours before or after our event. There are many different airlines and gateway ports into Australia so make sure you have enough time to see as much as you can and spend as long as you can with us.
Garden of Discovery, part of the Waite historic precinct, University of Adelaide
To assist with our forward planning could you please register your interest in attending the Tour in October 2024. This is a no-obligation commitment, just a guideline for our itinerary and accommodation planning. Please email by Wednesday 19 April 2023 to indicate if you would like to join us.
Some past trips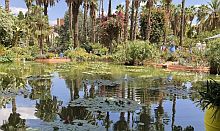 Morocco - Marrakech - September 2022
The programme included 14 varied and delightful garden visits. The final day was held in the Yves Saint Laurent complex where Director and Garden Designer Madison Cox gave a talk, the private Villa Oasis and the world-famous Jardin Majorelle.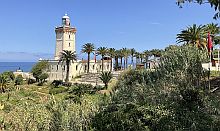 Morocco - Tangier - September 2022
This tour which was held both pre and post the Marrakech trip visited the magical North African port city that has seduced generations of writers, artists, designers and personalities. They built stunning homes and gardens. We had a unique opportunity to visit some of these gardens as well as to explore the colours, textures and beauty of this vibrant town.
Jordan - Spring 2020
Despite being cut short due to the global pandemic, this visit to Jordan provided fascinating insights to the history, culture and of course the flora of the country. We hope to return one day.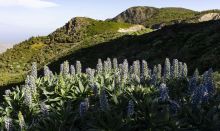 The Canary Islands - February 2019
A memorable tour of the islands of Tenerife and Gomera. We visited three interesting and unusual botanic gardens, but the main emphasis was on the islands' native plants, including many endemics, in their natural habitats - often, landscapes of great and remarkably varied beauty.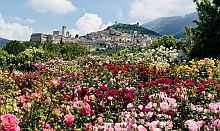 Lazio and Umbria - May 2018
A delightful mix of visits to gardens, both private and public, nurseries and small, medieval towns in central Italy. The week-long tour included Ninfa, considered by many to be a contender for the most beautiful garden in the world. Abridged report from The Mediterranean Garden No. 94 by John Joynes.
To see illustrated descriptions of other previous trips click here to go to the (non-responsive) MGS Archive.
The photographs at the top of this page show past trips to: Jordan (Photo by Jorun Tharaldsen); Epirus (John Joynes); Israel (Jorun Tharaldsen); Sardinia (Alisdair Aird); Morocco (Alisdair Aird) and South Africa (Sergio Ungaro).
THE MEDITERRANEAN GARDEN is the registered trademark of The Mediterranean Garden Society in the European Union, Australia, and the United States of America