The MGS Garden at Sparoza
The garden at Sparoza will be closed for private tours during the autumn and winter due to essential maintenance and will reopen in March 2023. There will be a tour of the garden as part of the November AGM and the garden will open for plant exchanges during this period.
Sparoza is an experimental garden on the outskirts of Athens created by Mary Jaqueline Tyrwhitt, who was an early advocate for choosing plants to suit the conditions. For 20 years before her death in 1983, Tyrwhitt grew plants not just from Greece but from further afield, including South Africa, California, Mexico and Australia – as long as they could thrive in Athens' savage summers.
Read an article in The Age newspaper about the vision of Jacqueline Tyrwhitt and how the house and garden have evolved.
Here is a gallery of photographs of the house and grounds at Sparoza in the 1960s.
Ten years after Jaqueline Tyrwhitt bequeathed the garden to the Goulandris Natural History Museum, Sally Razelou became its Custodian and continued until her death in 2021. She was one of those who conceived the idea of establishing the Mediterranean Garden Society, which now sponsors Sparoza.
Lucinda Willan is now Head Gardener and will carry on the spirit of experimentation and plant collecting that was started by Jacky Tyrwhitt and developed further under Sally's custodianship. Here is a video of Lucinda talking about her first year at Sparoza and her memories of Sally.
A new set of maps of Sparoza and detailed lists of plants in the garden have been created and are available here. The garden is zoned into 16 areas, each with its own detailed map and list of plants to view and download. These were prepared on a pro-bono basis by horticulturist / landscape architect and MGS member Dr Lena Anathasiadou with the aid of AUTh landscape architecture students Alexandros Mpantogias and Antonia Psaropoulou. The designs are based on the plant inventory compiled by MGS members Sally Razelou and Marie Ruffier-Monet in 2020 and on hand-made plans drawn by Jennifer Gay in 2001. Photography is by Head Gardener Lucinda Willan.
For additional reports and articles on this subject please check out the (non-responsive) MGS Archive.

MGS Volunteers working in the garden at Sparoza (Photo Rosey Boehm)
The garden has a quiet but steadily growing reputation in the gardening world, its renown not reflecting grandiosity or expense but rather its philosophy of matching the aesthetic sensitivity of the gardener with the limitations and opportunities offered by the difficult and typically mediterranean conditions of this Attica hillside. It is, in other words, a place where beauty and climate compatibility go hand in hand.
Read an article here by Caroline Harbouri in the 100th edition of The Mediterranean Garden Journal "Sparoza: What the Garden Is (and Isn't)".
Sally Razalou writes here about the challenges of unpredictable rainfall for gardening at Sparoza.
Members of the MGS, prospective members and their friends are welcome to visit by appointment only. Please email in advance to arrange an appointment. The Custodian, who lives in the house, or members of the MGS will guide your around. It is regretted that unannounced visits cannot be accommodated nor can appointments be made for Sundays.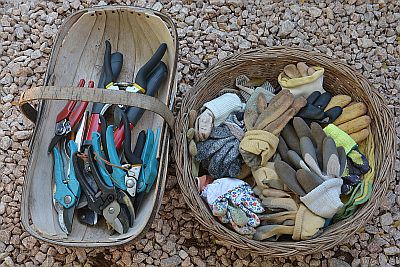 Volunteers' gloves and secateurs (Photo Rosey Boehm)
Thursday mornings between September and the end of June are particularly recommended for visits so that you can also meet the volunteers who work from 10 a.m. to 12 noon and be invited to share their post-work refreshments. The garden is close to the Athens airport and can easily be reached by airport buses or car.
To see what is in bloom right now at Sparoza and at other times of the year go here.
THE MEDITERRANEAN GARDEN is the registered trademark of The Mediterranean Garden Society in the European Union, Australia, and the United States of America