Trip to Jordan Spring 2020
The photograph at the top of this page shows Little Petra (Photo John Joynes)
John Joynes organised an excursion to Jordan in Spring 2020 which was unfortunately cut short due to the pandemic. Here also is a personal account by Nancy and Dave Moon of this fantastic tour.
John Joynes writes: This trip had been more than a year in the planning and organizing. As the date for departure approached each participating member had a decision to make, to go or not to go. In the end, 26 of the original 30 members gathered together in the Hotel Delilah in Madaba, along with our guide, Oron Peri, from Israel.
Madaba can possibly best be described as a city of mosaics. The most famous of which is the 6th century Byzantine mosaic map of the Near East. This is the earliest known map of the area, depicting Bible landmarks, especially Jerusalem. It is housed in the Greek Orthodox Church of St George. I don't know what everyone else was expecting but I was surprised by its size and scale.
Local guide pointing out details on a replica of the 6th century map before we see the original
On leaving Madaba we headed for Mt Nebo to look down, as Moses had done thousands of years before, over the surrounding countries, particularly the Holy Land. Then it was on through Wadi Shweb to our second hotel, the Olive Branch, in Jerash.
The following day saw us visiting 12th century Ajlun Castle before walking through the fruit orchards of Wadi Orjan. After lunch in Jerash the group divided, some going to the Dibbin Forest Nature Reserve while the rest explored the extensive ruins of a Graeco-Roman city in Jerash.
Day four was spent driving down through the Jordan Valley to the Dead Sea, where the more intrepid went for a swim, or more accurately a float, while others were content to paddle. Our destination for that night was the Old Village Resort in Petra.
Dead Sea
Recent unseasonal heavy rain had forced the closure of the archeological site of ancient Petra, so the visit to Little Petra was brought forward by a day. Though perhaps not as spectacular as its larger, better-known namesake Little Petra proved to be a little gem in itself.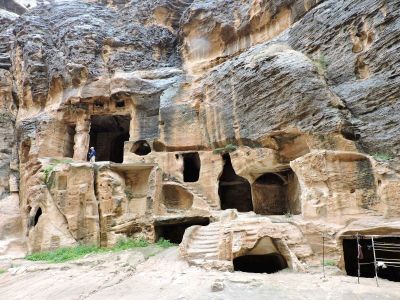 Little Petra
On returning to the hotel that evening we discovered that the virus situation had worsened globally and Jordan was closing down its borders, including airports, in two days time. We therefore had no choice but to abandon the remainder of the trip and head back the following day to Madaba, while trying to rearrange flights back to our various home countries. This we managed to do with the invaluable assistance of Oron Peri and our agent on the ground in Jordan, Tawfiq Makhamreh.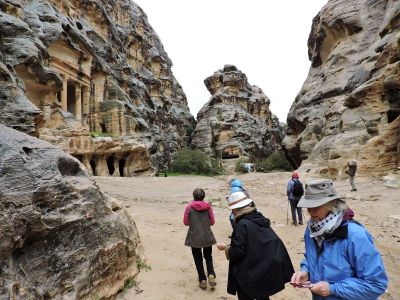 Our group visiting Little Petra
We had not seen Petra nor explored Wadi Rum but we had seen enough of Jordan, its people, and its cuisine, to be keen to return at some future date. Thanks to Oron we had found many interesting plants, not least the spectacular and beautiful irises, Iris nigricans, I. haynei and I. bismarckiana.
Iris nigricans
Iris haynei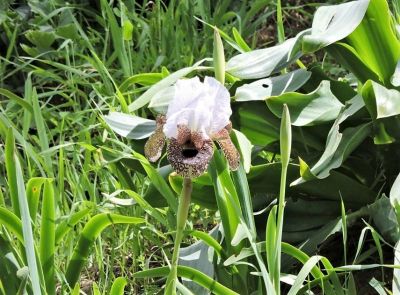 Iris bismarckiana
THE MEDITERRANEAN GARDEN is the registered trademark of The Mediterranean Garden Society in the European Union, Australia, and the United States of America