Sparoza - Succulent Terraces
The photograph at the top of this page shows the Succulent Terraces in October (Photo Rosey Boehm)

This area lies between the "threshing floor" and the phrygana area with a couple of grand Yucca elephantipes towering above. It is home to a variety of cacti and succulents including Cotyledon orbiculata, various aloe species and a very slow growing Agave victoriae-reginae was planted by Sally in the early 1990's.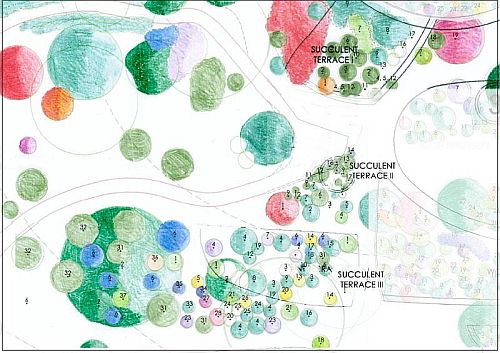 .click on map to enlarge
click here to download as a pdf
Succulent Terrace I
1. Echinopsis sp.
2. Portulacaria afra
3. Aeonium arboreum 'Atropurpureum' or 'Zwartkop'
6. Aloe sp.
7. Acanthus mollis
8. Yucca elephantipes
9. Cotyledon orbiculata
10. Agave victoria-reginae
11. Drosanthemum sp.
13. Cotyledon
16. Aeonium haworthii
17. Kleinia ficoides
18. Crocosmia
19. Cercis siliquastrum
4, 5, 12. Sedum sp.
Succulent Terrace II
1. Drosanthemum sp.
2. Cotyledon orbiculata
3. Oreopanax capitatus
4. Haemanthus coccineus
5. Arum pictum
6. Senecio ficoides
7. Crassula ovata
9. Aeonium haworthii
10. Crassula sp.
11. Agave ?
12. Aeonium arboreum 'Atropurpureum' or 'Zwartkop'
13. Aloe arborescens
14. Scilla hyacinthoides
15. Sedum ochroleucum
16. Senecio fulgens
17. Sedum sp.
Succulent Terrace III
1. Acanthus mollis
2. Olea europea
3. Eriocephalus africanus
4. Lavandula dentata
5. Cotyledon orbiculata
6. Iris germanica
7. Pelargonium quercifolium
8. Tecoma capensis 'Apricot'
9. Spirea x vanhouteii
10. Salvia discolor
11. Rosmarinus officinalis
12. Euryops pectinatus
13. Phlomis fruticosa
14. Cheiranthus cheiri
15. Clematis vitalba ?
16. Euphorbia characias
17. Salvia chamaedryoides
18. Tradescantia pallida
19. Rosmarinus repens
20. Artemisia arborescens
21. Ruta graveolens
22. Quercus coccifera
23. Lomelosia cretica
24. Teucrium fruticans 'Azureum'
25. Convolvulus cneorum
26. Cneorum tricoccon
27. Ptilostemon chamaepeuce
28. Limoniastrum monopetalum
29. Ballota acetabulosa
30. Ferraria crispa
31. Aloe maculata ?
32. Aloe hybrid
33. Eriogonum fasciculatum 'Dana Point'
34. Echium candicans
35. Iris unguicularis
36. Pelargonium
37. Drimia maritima
THE MEDITERRANEAN GARDEN is the registered trademark of The Mediterranean Garden Society in the European Union, Australia, and the United States of America