The 2021 Annual General Meeting - Programme of Events
The photograph at the top of this page shows a 'botanical staging' at Anima, the garden by André Heller we will visit during the AGM tour (Photo André Heller)
All Members are invited to attend the 27th General Assembly of the Mediterranean Garden Society which will be held in the Auditorium of the Yves St Laurent Museum, Marrakech on Wednesday 10 November 2021 at 09.00-11.30 am regardless of whether they are participating in the accompanying programme of visits and activities or not.
The 2021 AGM Programme will take place in Marrakech from Sunday 7 to Wednesday 10 November.
Introduction
Known as 'the rose among palms' Marrakech is a city with a deeply-rooted tradition for making and preserving gardens and green spaces. The four-day programme in and around the city includes 14 varied delightful garden visits to: historic riad gardens, verdant paradise gardens, intimate courtyard gardens, a whimsical sculpture garden, an ethnobotanical garden, a country garden, the largest cactus garden in Africa, a palm grove and private gardens incorporating traditional building methods with modern design and eco principles. Our last day is spent at the impressive Yves Sant Laurent complex as guests of Madison Cox its Director and we visit the YSL Museum, the world-famous Majorelle garden, the Berber Museum and the magical private Villa Oasis garden. An optional cultural orientation and talk takes place on Sunday 7 November.
Saturday 6 November
Independent arrivals to Marrakech and Pre-AGM Tour return to the city.
Day 1 - Sunday 7 November Optional Cultural Orientation Tour and Talk (subject to availability)
Participants can choose to spend the day today on a guided tour of the city. In small groups of 15 people, by minibus and on foot, participants visit two of the city's most important monuments and the ancient medina's Jewish quarter and souk districts before enjoying lunch and a talk on the water systems of the city.
Two gardens of historical importance are nevertheless not to be missed during the tour. At the sixteenth century El Badi Palace or "Palace of the Incomparable" a great ceremonial courtyard of near perfect symmetry decorated with pools, pavilions and sunken gardens represents the pinnacle of riad design: a building centered around a courtyard garden of quadripartite format with fountains, fruit trees and aromatic plants. Next at Dar Si Said, a museum showcasing Moroccan crafts and carpets, the townhouse ("dar") is the highlight. Here Islamic architecture and design are constructed on a palatial scale. In one courtyard, participants encounter the "zellij" or geometric mosaics that were often used within townhouses where high walls and limited space meant that it was easier to design with tile rather than plants. In the other courtyard however a stunning antique riad garden awaits.
The tour ends around 4pm to give participants time to refresh before the evening event.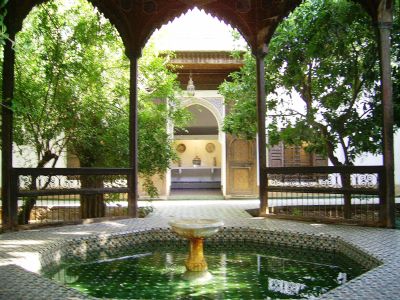 A courtyard in the Dar Si Said Museum (Morocco Ministry of Tourism)
Registration and Opening Reception - 19.30
Where better to start our immersion in the gardens of Marrakech than in the magnificently-restored Jardin Secret exclusively ours for just one candle-lit night. Located in one the largest and most ancient palaces of the medina of Marrakech, the garden is new but is deeply rooted in the city's history, culture, architecture and art of gardens. There are two gardens: the larger has been restored as an Islamic paradise garden, reflecting the pure geometry and Koranic symbolism of its progenitors. The smaller garden is beautifully designed using a more modern interpretation of paradise using extraordinary colour and variety in its plantings.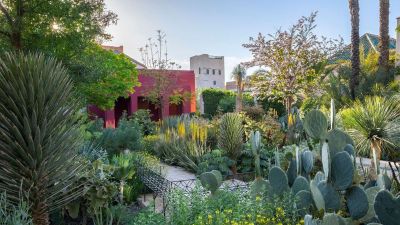 Jardin Secret (Le Jardin Secret)
Day 2 - Monday 8 November - Gardens of the "Palmery"
Our day begins with a guided visit to Cactus Thiemann. With nearly 7 hectares of 150 cactus varietals plus giant aloes, agaves, prickly pears and other succulents, this is Africa's largest cacti farm. Its largest specimen is an amazing 80-year-old elephant cactus standing at 8m which was brought overland from Europe to Morocco by founder Hans Thiemann 40 years ago. His widow and two daughters now run the nursery and regularly supply cacti to all the gardens we will visit during our tour.
Next up is a full immersion in the awesome Mohammed VI Museum of Water Civilization in Morocco or "AMAN". Opened in 2017 and named after the current, much-loved Moroccan King, this is just one of his projects to promote sustainable socio-economic and ecological development in the country. Moroccan genius in water management is the focus. Over three floors of exhibits we discover how, centuries ago, hydraulics allowed the first desert gardens to be created; how, even today, traditional water harnessing and sharing practices function across the country's oases, mountains and plains; how, in old cities, water was brought to public fountains for use in cooking, bathing, orchards and gardens. Lastly, the challenges the country faces due to the impact of climate change and demographic growth on its water resources are examined.
On route to lunch we drive through Marrakech's Palmery. Dating from the eleventh century following the arrival of the Almoravid caravan, this is the only palm grove of its kind north of the High Atlas mountain range. It extends for 13,000 hectares with 100,000 date palms irrigated by underground water channels known as "khettaras". Besides the production of dates, the palm trees provide shade to the cultivated fields. This is another delicately balanced ecosystem under threat from Marrakech's explosive growth in recent years.
We arrive at Jnane Tamsna owned by ethnobotanist Gary Martin and his wife Meryanne Loum-Martin for lunch at their magnificent property. "Jnane" is the plural of "jnana" - an Arabic word which describes the heavenly garden of Paradise in the Koran. Over time the word evolved to denote a specific garden form which includes fruit trees, palms and grape vines. Gary, Founder of the Global Diversity Foundation (GDF), has been involved in conservation and ethno-botanical work for over 30 years has created his own quite unique jnane garden. It spreads over nearly 9 hectares and is rich, not only in botany, but also in cultural associations to horticulture in North Africa. Palm-shaded orchards, olive groves, herb and vegetable gardens provide the guesthouse kitchen with organic produce and Gary has also launched a line of local specialities to be sampled during the visit.
Return to the city. Drop off at Bab Lakssour, Medina and 2Ciels Hotel, Gueliz. Evening at leisure.
Jnane Tamsna (Jnane Tamsna)
Day 3 - Tuesday 9 November - Gardens of the Ourika Valley
Today we drive thirty kilometers south of Marrakech to the Ourika Valley at the foot of the High Atlas Mountains. First a stop to visit a young garden commissioned from the talented design team at Son Muda Gardens in Majorca (some of us will have visited that stunning garden during the AGM tour in 2018). The philosophy of Son Muda Gardens can be seen in the planning. There are structured, straight-lined islands, hedges and drifts with repeating verticals. Many shades of green predominate while repetitions of a few mediterranean varietals provide limited color. The garden features watercourses, water lily and lotus basins, a rose garden (appropriate to the City of Roses) palms, olives, vegetable and citrus gardens plus a Bedouin tent.
Next we journey to Anima - a garden or a "botanical staging" where exuberant plantings of over 250 species interact with whimsical works of art by the Viennese multi-media artist André Heller plus Pablo Picasso, Keith Haring, undiscovered local talents and many more. The garden would merit a visit without the art but together plantings and installations create a unique visit.
We lunch on the panoramic terrace overlooking the garden and views of the Atlas and afterwards proceed to two more privately-owned gardens in the valley. Returning to town we visit the Beldi Country Club a historic hangout for locals wishing to escape the city's crush. 10 minutes from the medina walls, several hectares of palms, olives and fruit trees successfully isolate guests entirely from the world outside as they enter through mass plantings of roses into an atmosphere of a rural "douar" or village. We take tea and can wander among pavilions, terraces and reflection pools. The garden is a sea of fountain grasses with vertical accents of cypress and agave, surrounded by the scent and colour of climbing jasmine and bougainvillea. In the late afternoon sun, the warm colours of terracotta and pisé begin to glow.
Return to the city. Drop off at Bab Lakssour, Medina and 2Ciels Hotel, Gueliz. Evening at leisure.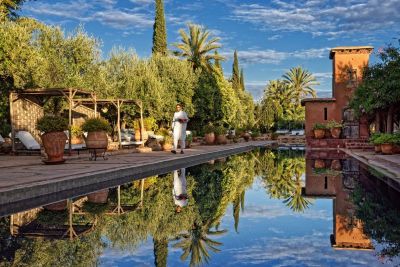 Beldi Country Club (Beldi Country Club)
Day 4 - Wednesday 10 November - General Assembly, Museum and Garden Visits, Yves Sant Laurent Complex
The society is indebted to MGS member Madison Cox for his invitation to hold our General Assembly at the YSL Auditorium at which he has also agreed to be our Keynote Speaker. Madison is President of the Fondation Pierre Bergé-Yves Saint Laurent established in 2002 to conserve and promote Yves Saint Laurent's legacy. He is Director of the Yves Sant Laurent museums in Paris and Marrakech and of Jardin Majorelle. He is a garden scholar and author of several garden books. He likes to keep a low profile as a garden designer but has nevertheless designed and built over 100 gardens across the world for clients as publicity averse as he is himself. He brings to his designs techniques and plantings gleaned from many epochs, cultures and movements to create gardens that he says should seem "inevitable". It is Madison's touch that we can appreciate today: in the landscaping around the new Museum; in the garden at Villa Oasis which he designed; and in the Majorelle garden as it evolves and flourishes under his tutelage to become one of the world's most iconic gardens.
The General Assembly will commence at 9.30. Afterwards we divide into groups for guided visits to the YSL Museum dedicated entirely to the eponymous designer. More than a retrospective featuring the essential work of Yves Saint Laurent, the exhibition, rooted in Marrakech, is a voyage to the heart of what influenced the designer.
A short walk takes us through the museum garden into two adjacent gardens. As we walk, we can appreciate the minimalist approach to landscaping which is in keeping with two longstanding principles advocated by the Fondation Jardin Marjorelle: the promotion of water conservation and the planting of ecologically responsible varieties.
Jardin Majorelle (Alisdair Aird)
The Jardin Majorelle extends over 9,000m enclosed by outer walls and consists of a labyrinth of crisscrossing alleyways on different levels and boldly-coloured buildings that blend both Art Deco and Moorish influences. The French painter Jacques Majorelle conceived of this large and luxuriant garden as a sanctuary and botanical 'laboratory'. In 1922, he began planting it with exotic botanical specimens from the far corners of the world. In 1980, Yves Saint Laurent and Pierre Bergé purchased the Jardin Majorelle to save it from destruction at the hands of hotel developers.
The new owners decided to live in Jacques Majorelle's villa, which they renamed the Villa Oasis. It is to this garden that we make our way for lunch seated in the shade of one of its beautiful pavilions amid exquisite plantings, pale blue, lime green and soft yellow pots, a citrus garden, a lily pool, shaded walkways and much more.
After lunch participants make their own way through the Jardin Majorelle and the Berber Museum (Majorelle's original studio) in the garden. Collections of cacti, exotic plants and trees are landscaped to emphasize each one's unique beauty. Pools, streams and fountains create a haven of serenity and the delicate sound of trickling water is accompanied by abundant birdsong. The Majorelle-blue walls of the Berber Art Museum can be glimpsed through the greenery from all viewpoints and inside a fascinating collection of ceramics, weapons and magnificent jewellery, textiles, carpets, woodwork and other treasures from that culture is to be enjoyed.
Visit ends. Bus transfers to Bab Lakssour, Medina and 2Ciels Hotel, Gueliz.
Bus transfers at Bab Lakssour, Medina and 2Ciels Hotel, Gueliz for Closing Dinner featuring traditional cuisine music and dancing,
AGM Tour Ends.
Disclaimer
This programme is as complete and accurate as possible at the time of publication but may be subject to changes. If you take part in a Mediterranean Garden Society event, you do so entirely at your own risk and neither the Mediterranean Garden Society, neither the organizers, nor the leaders of these events are in any way responsible for the safety of those taking part. Travel insurance is mandatory.
Information
AGM Tour Price
The main AGM tour costs 565 euro per person. AGM Programme includes a €60 non-refundable booking fee. Four days of visits, guides, transfers, opening ceremony, closing dinner, lunches and General Assembly. It excludes travel to Marrakech and your accommodation and the Optional Cultural Day and Lunch which costs 60 euro per person (availability permitting).
Optional Pre and Post Tour Price
The Optional Pre and Post AGM tours cost 685 euro per person. Includes 4 nights accommodation, all visits, guides, transfers, meals. A single accommodation supplement of 185 euro for those requiring a single room.
Specific Dates for Planning Purposes
Participants must make their own arrangements for travel and accommodation in Marrakech. Accommodation on pre and post tours is arranged. The following dates will be helpful for your planning:
Arriving on Saturday 6 November will allow you to take part in optional orientation tour and talk on Sunday 7 November.
The Pre-AGM tour departs from city at 14.30 on Tuesday 2 November and returns to the city at 15.30 on Saturday 6 November.
AGM Registration and Opening Ceremony takes place at 19.30 on Sunday 7 November and ends with the closed of AGM Closing Dinner at 23.00 on Wednesday 10 November.
The Post-AGM Tour departs at 14.30 from Marrakech on Thursday 11 November after a morning at leisure and returns to the city at 15.30 on Monday 15 November.
Currency
The Moroccan currency is dirhams and participants may take 1000 dirhams into the country if you choose to do so. It will be easier to use cash points in the airport on arrival or in town. Euros are accepted for all kinds of payments and it is recommended that participants bring a suitable amount. Tipping is the norm in Morocco for any service or help required. We have included tips to drivers and waiters in the tour price.
Security Concerns
The murder of two hikers by terrorists in 2018 led the British Foreign and Commonwealth Office to update its advice: terrorist attacks are "very likely". Please be aware that this is the same rating given to France and the FCO does not advise against travel to any part of the country. The country hosts around 10 million tourists a year without incident! For more information on safety: see UK Government travel advice.
Honeyeater on an aloe at Jardin Majorelle (Alisdair Aird)


THE MEDITERRANEAN GARDEN is the registered trademark of The Mediterranean Garden Society in the European Union, Australia, and the United States of America