A personal reflection of the MGS Jordanian excursion in 2020
By Nancy and Dave Moon
The photograph at the top of this page shows Iris nigricans
These notes and photos are of the MGS wildflower tour to Jordan in March 2020, which was unfortunately cut short due to Covid. John Joynes wrote a very good article about the trip which is in the MGS Journal 101 of July 2020. If members read this in conjunction with that, they will get a good idea of the trip as a whole.
The tour started in Madaba, a 45-minute journey from Amman, and much of the tour was in the surrounding area. As it has a mediterranean climate which covers about twenty percent of the country, many of the wild flowers are similar to those here in Crete.

The wildflower tour started on Wednesday, 11 February. A bus took the group north towards Jerash via Mount Nebo where Moses looked down on to the Promised Land. We stopped at the roadside to walk down a stony track where among other pretty flowers we found tiny wild tulips.
Tulipa agenensis on a track beside the road
Also nearby there were amazing wild irises. They could have come from a nursery. This one, in the photo below, is Iris nigricans (Black Iris); the national flower of Jordan.
Iris nigricans
After staying the night at Jerash we visited the imposing Ajlun Castle, then carried on to the very fertile Wadi Aljan which has been farmed since Biblical times. We were lucky to come across a farmer ploughing with horse and ancient-style wooden plough. The old Syrian olive trees have amazing trunks, and a 'skirt' of roots round the base.
Ploughing with horse and ancient-style wooden plough
During our walk along the wadi we found another wild iris, the 'Nazarath iris' Iris bismarckiana.
Iris bismarckiana
For the afternoon Dave and I opted to look for orchids in Dibbin Nature Reserve instead of visiting Jerash archaeological site (or as Oron, our botanist, put it, 'a pile of stones'). Unfortunately, it soon started to rain but we were still able to find many orchids similar to those found on Crete.
The next morning, we drove south towards the dead sea through more spectacular scenery. At another roadside stop, we clambered over a muddy scrubby hillside to find clumps of Iris haynei.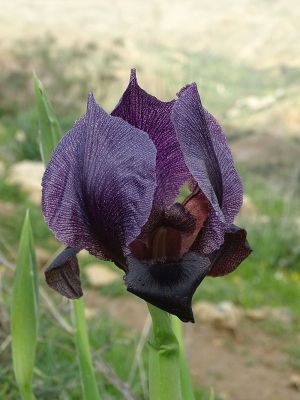 Iris haynei
Also, on the hillside I noticed this unusual plant, Eremostachys laciniata.
Eremostachys laciniata
On reaching a Dead Sea resort many of the group, including us, braved the chilly water for a float. A strange feeling, which I have no desire to repeat. It soon started raining again, and the bus had to take a long detour because sections of the desert highway had been closed due to flooding. We arrived at Petra in the dark.
Due to miserable weather it was decided to visit Little Petra next day which was spectacular.
Little Petra
Apart from an oleander, the only flower I noticed was a Bellevalia stepporum in a corner.
Bellevalia stepporum
Back on the bus we drove uphill through heavy mist and rain, to stop at a very muddy hillside to look for flowers. There were many clumps of tiny Iris Regis-uzziae (King Uzziae iris) its colour ranging from white to pale blue.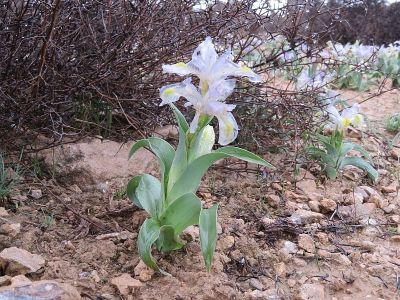 Iris regis-uzziae
This pretty Leontice leontopetalum (Lion's Foot) caught my eye.
Leontice leontopetalum
Due to the weather we then returned to the hotel.
That evening we learnt that, due to COVID 19, Amman airport was closing in two days. We would need to return to Madaba the next morning so people could book and catch new flights. We were all disappointed that the tour had to be abandoned. Dave and I hope to return to Jordan to visit the famous Petra archaeological site, and also Wadi Rhum.'
THE MEDITERRANEAN GARDEN is the registered trademark of The Mediterranean Garden Society in the European Union, Australia, and the United States of America