Mediterranean Garden Society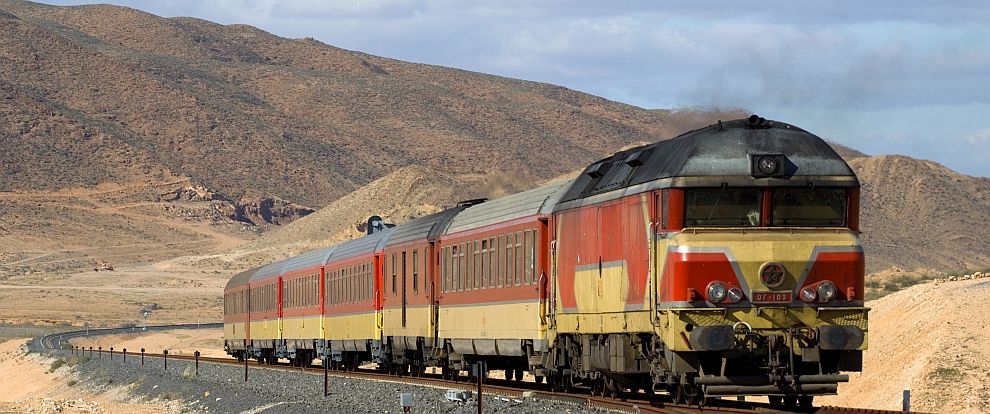 Morocco Tour - Connections and Transfer Options
Tangier – Marrakech - Tangier
The photo at the top of this page shows an ONCF DF 100 train in Morocco (photo Wikipedia)
Train
All trains serving the route are modern, safe, and well-equipped. Good seats, generous legroom, and more than enough space for the luggage during the journey. The trains boast impeccable punctuality and a broad schedule with up to 10 daily departures.

There is a now a 300km/h TGV rail link between Tangier & Casablanca called El Borat with a journey time of 2hr 10 minutes.
It connects at Casablanca with the classic Al Atlas air-conditioned express trains which run down to Marrakech. The second journey time is 2hr40mins making the total journey time is about five hours.

Fares are flexible so the earlier you book, the less you pay, but they are very reasonable. Expect to pay Euro 20-35.00 one way in 2nd Class and Euro 50.00 for 1st class.

You can easily check Moroccan train times & fares and make your booking online at the ONCF (the Moroccan national rail operator) website.

Air
Low-cost Air Arabia run out of the Emirate of Sharjah has, in the past, offered direct flights between Tangier and Marrakech. With flying time at 1hr 10 minutes and fares in the region of €50.00 one way this would be a very good option. Unfortunately, currently, their schedule is not showing flights between the two cities, but you never know… keep checking their website.
Car Direct
An air-conditioned car (7-seater minibus Ford or Hyundai) with a driver to drive you the 600km between Tangier and Marrakech will cost Euro 316 for two passengers or Euro 424 for four passengers. The trip will take around 6 hours. The maximum number of passengers is four.
Contact angela.durnford@mgsitaly.org if you wish to book this option.
Car Direct with Optional Excursion - Please see Optional Additional Excursions section.
THE MEDITERRANEAN GARDEN is the registered trademark of The Mediterranean Garden Society in the European Union, Australia, and the United States of America